Are "Dinarian" Trump Supporters Losing Their Assets On Iraqi Currency Scam?
As stocks stall and cryptos crater, the Daily Beast's Will Sommer has shined a spotlight on a little-known "scam" that Trump supporters have apparently fallen for; Iraqi dinars. 
Promising to turn an investment of thousands into millions for over a decade, Sommer notes that dart-throwing currency investors - Trump supporters in particular, have latched onto comments the president made at a 2017 press conference that all currencies will soon "be on a level playing field." 
And while Trump was referring to the US-China trade imbalance, many such as Trump supporter and small business owner Hayes Kotseos and her husband have sunk thousands of dollars into the notion that the dinar will revalue, or "RV" - boosting its current value of under $0.001 to $3 or $4.
Trump supporter Hayes Kotseos runs a North Carolina pool-maintenance company, but she's got a side bet that she thinks might make her fabulously wealthy: the Iraqi dinar.

...

Kotseos interpreted Trump's rambling statement as proof that the Iraqi dinar would soon be worth as much or even more than the dollar, making anyone who had been smart enough to buy in early a millionaire.

"I love my president, and I was like, 'Oh my God,'" Kotseos told The Daily Beast.

The purchase, Kotseos said, cost her and her husband somewhere between $5,000 and $10,000, counting the cut to the company that sold them the dinars. Two of her adult children have bought millions more dinars, too. -Daily Beast
"If it happens, it'll be awesome and there'll be a huge party at my house," said Kotseos. 
Believers in the dinar's comeback, or "Dinerians" as they call themselves, dates back to its pre-Gulf War value at over $3 - however years of GDP-destroying war, instability and sanctions have dropped its value to under one-tenth of a US penny. 
The persistently low value has inspired warnings from state regulators and several indictments against dinar sellers accused of misleading investors about the currency's prospects. But that hasn't stopped dinar investors from buying and counting on the much-awaited "RV" to make them rich. -Daily Beast
And while nobody really knows how many Americans have plowed their hard-earned US dollars into dinar, "court papers related to dinar scams often menti0n millions of dollars worth of dinar purchases," according to Sommer. Meanwhile Dinar believers frequently tweet hopeful prayers of revaluation to Trump - who is said, without evidence, to have personally invested in the dinar.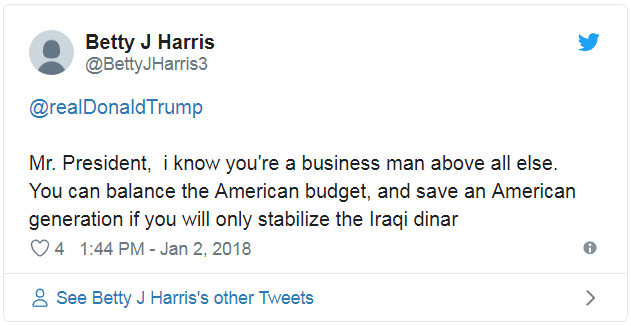 "MR TRUMP. I really admire you….please help us with this RV," wrote one Twitter user. Another asked Trump to increase the dinar's value to "give us the financial tools we need to support your efforts," tweeted another hopeful investor.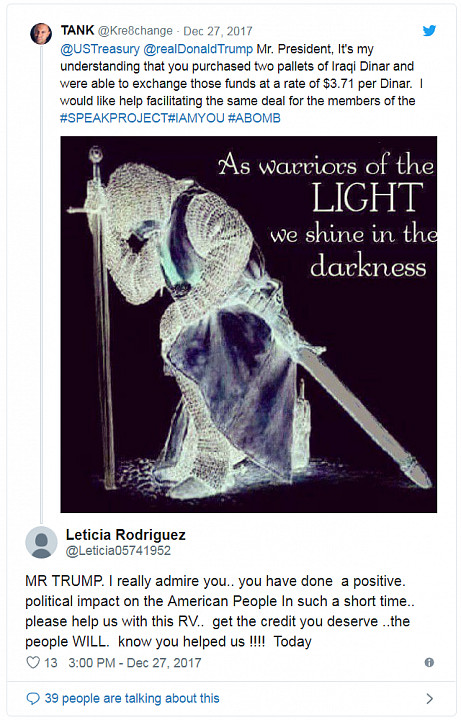 Colorful characters such as South African "prophet" Kim Clement - who allegedly predicted Trump's election before his 2016 death, steered followers into dinars with prophecies of revaluation. 
"It was like, OK, well, God said the Iraqi dinar is going to revalue," Kotseos told The Daily Beast.

...

In a video on one of Clement's prophecies about the dinar, a Trump supporter insisted in October that Trump was central to the whole plan.

"President Trump is KEY," the commenter wrote. "Nobody thought he would win, he will trigger the IRAQ RV." -Daily Beast
Attorney and scam watcher Jay Addison told The Beast that the "dinarians" are a "study in stupidity," and that he has personally dealt with dinar investors who are "otherwise savvy in business but became entranced by the prospect of instant riches." 
"I've had a few clients fall for it," Addison said. "They weren't really the sharpest knives in the drawer."
'They're basically told that it's a sure thing. Nine out of 10," Addison added. "When it's actually one in a hundred billion."
"Dinarians" gather on internet forums such as "Dinar Detective" in order to discuss developments in their favorite investment. Another site, Dinar Vets, requires that users verify (or "dinarify") themselves by posting a photo of their dinars before they can participate in the online community. 
Other fans post  on YouTube, filming themselves as they open envelopes filled with the dinars they hope will make them wealthy. On Facebook, some dinar groups are devoted to praying for the dinar revaluation to come sooner. -Daily Beast
The very dark side of dinarianism
Last October, the owners of a Georgia-based dinar reseller who made $600 million were convicted of mail and wire fraud. 
"These executives engaged in a lengthy campaign to defraud investors by spreading lies about the investment potential of the Iraqi dinar," said Acting U.S. Attorney Kurt R. Erskine. "These convictions resulted from years of investigation, which included dozens of electronic and physical search warrants, hundreds of witness interviews, and extensive financial analysis."
According to Acting U.S Attorney Erskine, the charges, and other information presented in court: Rhame and Shaw owned and operated the Sterling Currency Group, which was once one of the country's largest sellers of the Iraqi dinar.  Bell was Sterling's chief operating officer.  Between 2010 and June 2015, Sterling grossed over $600 million in revenue from the sale of the Iraqi dinar and other currencies, while Rhame and Shaw received over $180 million in distributions.

...

The defendants also paid substantial sums of money to third parties who in turn spread false information about the dinar on conference calls and Internet chat rooms. 

...

Tyson Rhame, 53, and James Shaw, 55, both of Atlanta, Georgia, and Frank Bell, 55, of Decatur, Georgia, were convicted of conspiracy to commit mail and wire fraud and multiple mail and wire fraud counts. -DOJ
According to US prosecutors, the scam included entirely fictitious government "sources" in American and Iraqi government positions, along with international financial institutions, who promised that a revaluation was imminent. 
For investors like Kotseos, however, don't seem to mind. 
Kotseos also spends a portion of each day in a dinar chatroom, where dinar holders try to convince one another that their investment will eventually pay off. Instead, she tries to promote "hopium"—dinar-world slang for optimism about the currency.

"Some people get a little negative," said Kotseos, who also tweets about the pro-Trump QAnon conspiracy theory. "You've gotta squish it fast. We just support each other." -Daily Beast
According to Kotseos, her family can afford to lose their investments in dinar - however she's convinced that she will at least break even.