Abrams 'Virtually' Concedes Georgia Race; Admits Kemp Will Be Next Governor Yet Plans To Sue
Democrat Stacey Adams ended her run for Georgia governor on Friday - admitting that her Republican opponent Brian Kemp would be the next governor, yet refusing to concede the race.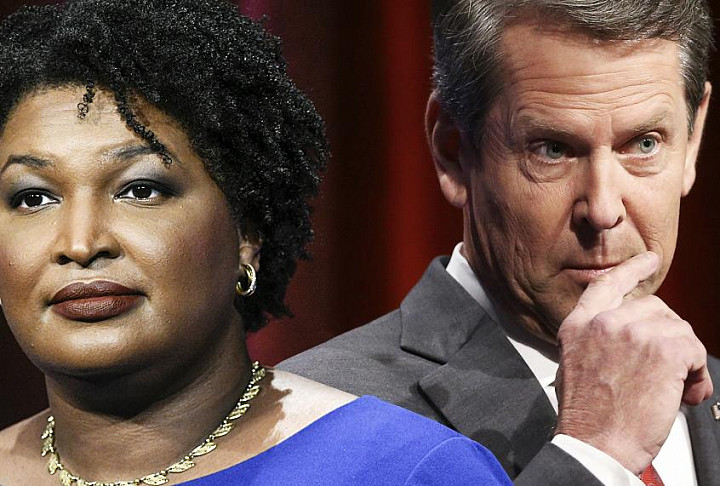 Abrams says she will file a "major" federal lawsuit challenging Georgia's "gross mismanagement" of the election. 
As state officials prepare to certify the vote, Abrams acknowledged the law "allows no further viable remedy" to extend her quest to be the nation's first black female governor. But she laced her speech with biting criticism of Kemp, who she accused of leveraging his role as the state's top elections official to suppress voters. -AJC
"I will not concede," said Abrams, "because the erosion of our democracy is not right." 
"In the coming days, we will be filing a major federal lawsuit against the state of Georgia for the gross mismanagement of this election and to protect future elections," she added. 
Kemp, who stepped down as secretary of state last week, was quick to thank Abrams for her "passion, hard work and commitment to public service," adding "The election is over and hardworking Georgians are ready to move forward," and that "We can no longer dwell on the divisive politics of the past but must focus on Georgia's bright and promising future."
The Abrams campaign is reportedly considering a long-shot legal challenge which lets losing candidates contest an election if there is fraud, misconduct or "irregularities." 
The latest tally showed Abrams is roughly 55,000 votes behind Kemp — and in need of more than 17,000 votes to force a Dec. 4 runoff. Georgia law requires a runoff if no candidate gets a majority of the vote, which is only a possibility because a third-party contender netted about 1 percent. -AJC
Abrams' campaign has repeatedly insisted that Kemp used his role as secretary of state to prevent people from voting - citing long lines, closed polling stations and the cancellation of hundreds of thousands of voter registrations.
"To watch an elected official who claims to represent the people in this state baldly pin his hopes for election on the suppression of the people's democratic right to vote has been truly appalling," said Abrams. "So, let's be clear. This is not a speech of concession. Because concession means to acknowledge an action is right, true or proper. As a woman of conscious and faith, I cannot concede that. But my assessment is the law currently allows no further viable remedy." 
Kemp has fired back at the accusations, pointing to the nearly 4 million people who voted in the midterm election. During the 2010 midterm - the last time there was no incumbent running for governor, approximately 2.9 million people voted. 
While Kemp's lead has dwindled a bit since Election day as absentee and provisional ballots have trickled in, Abrams and her allies have suggested that thousands of outstanding ballots were never counted. 
Her campaign also fought in court to force local officials to review as many as 27,000 provisional ballots. Abrams was also able to convince a judge to require the state to count absentee ballots with incorrect birthdate data, however a request to accept provisional ballots cast in the wrong counties was rejected. 
That order, by U.S. District Judge Steve Jones, set off a scramble by county officials to revisit rejected ballots. But it left Kemp's lead virtually unchanged, even as the biggest trove of those votes in Gwinnett County was added to the total.

Those final ballots in Gwinnett also likely cemented the contest for Georgia's 7th District. Republican U.S. Rep. Rob Woodall led Democrat Carolyn Bourdeaux by about 400 votes, though her campaign on Friday said it will request a recount. -AJC
Amid the post-election chaos, Abrams has hinted several times at more litigation, pointing to "irregularities" at polling sites.  
"Now, I could certainly bring a new case to keep this one contest alive, but I don't want to hold public office if I need to scheme my way into the post," she said." Because the title of governor isn't nearly as important as our shared title: Voters," she said. 
Kemp's camp escalated tensions on Friday, after calling on Abrams to end her "ridiculous temper tantrum and concede," before stating: "I humbly ask for citizens of our great state to stand with me in the days ahead, adding "Together, we will realize the opportunities and tackle the challenges to come. We will be a state that puts hardworking Georgians - no matter their zip code or political preference - first."