Tesla Fails To Meet Musk's "Record" Second Quarter Production Goal
Tesla stock gave back most of its gains on Tuesday following news that second quarter numbers may not be as rosy as Elon Musk is purporting them to be.
Just weeks ago, on May 22, Tesla CEO Elon Musk said in a "leaked" email that he was targeting production of 1,000 Model 3 sedans per day for the rest of the second-quarter in order to set a new vehicle delivery record. The current record is 90,700 vehicles, which occurred during the 4th quarter of 2018. 
But once again, Elon Musk's never ending struggle with reality - and the truth - continues. A new report from Business Insider indicates the Tesla likely did not meet its 1,000 Model 3/day goal in the weeks after Musk's email. After reviewing documents that described the daily output rate for one segment of Model 3 production at Fremont (which means Musk will have another nervous breakdown over who the "leaker" is) it appears that Tesla only reached the 1,000 unit per day goal on one day in the weeks following Musk's e-mail. 
Average output for the segment reviewed was, instead, about 700 units per day.
Daily output rates for one part of the process don't necessarily correspond with final production numbers on any given day, but they are relevant enough to give a glimpse into what appears to be another coming quarter where Tesla may fall short of expectations.
It also isn't out of the question that Tesla may make a push to increase production during the final weeks of June.
As recently as seven days ago, at the company's annual shareholder meeting, Elon Musk had told investors that the company had a "decent shot" of breaking its quarterly delivery record. The internal documents reviewed now indicate that the company would have to increase Model 3 production rates significantly during the final weeks of June to do so.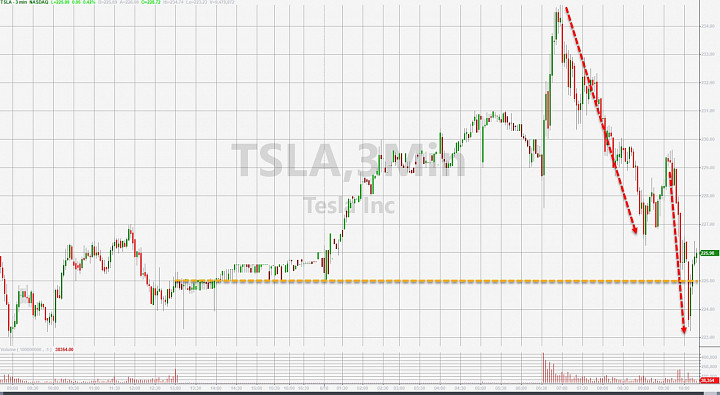 The second-quarter delivery numbers are going to be under intense scrutiny, especially given the company's lackluster first quarter. While Wall Street has been pessimistic on the company's ability to deliver in the second quarter, Tesla stock has rebounded from lows near $180 to near $230 per share over the last several weeks – primarily on the heels of Musk's optimistic sounding "leaked" emails.