Germany's Anti-Establishment AfD To Discipline Leader For Controversial Holocaust Memorial Speech
Germany's anti-immigrant Alternative for Germany (AfD) party announced it would discipline one of its state leaders for remarks he made criticizing Berlin's Holocaust Memorial, the party's co-leader said on Monday.
According to Reuters, Bjoern Hoecke, AfD head in eastern Thuringia state, triggered anger across Germany with a comment about the memorial when he told party members in a speech in Dresden last week that "Germans are the only people in the world who plant a monument of shame in the heart of the capital."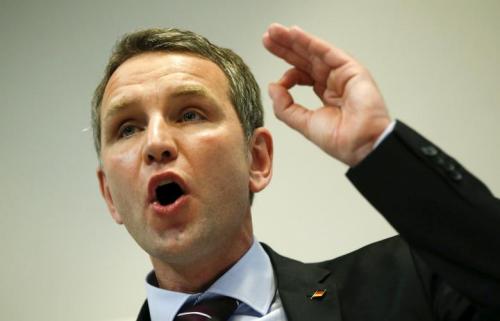 As a result, AfD co-leader Frauke Petry told German broadcaster MDR on Monday that its executive committee had concluded Hoecke's statements harmed the reputation of the party. She added that the party considered it necessary to take disciplinary action, without giving further details.
The AfD's anti-immigrant rhetoric has won support among Germans worried about the influx of more than a million migrants in the last two years. With polls putting it on 12-15 percent, the AfD is tipped to win seats in the federal parliament for the first time in September's national election.
Hoecke said his remarks were misrepresented by the media and his speech was intended to reflect on how Germans looked at their history.
The Holocaust Memorial, located near the Brandenburg Gate in the heart of Berlin, comprises a large number of grey granite slabs of varying heights, arranged in a grid pattern.
Today's move may be an indication the AfD is seeking to take on a more centrist position, in hopes of gaining further support as Merkel's own support in the polls has declined in recent months following a series of deadly terrorist attacks on German soil.