Iran Warns Trump Not To Cut Off Oil Exports, Threatens "Mother Of All Wars"
Iran's president Hassan Rouhani warned the US not to threaten the nation's oil exports, called for improved relations with its neighbors including arch-nemesis Saudi Arabia, and cautioned the US that a conflict with Iran would be "the mother of all wars."
"Don't play with the lion's tail, this would only lead to regret," Iran's leader said during a speech with Iranian diplomats on Sunday, the semi-official Iranian Students' News agency reported. "The Americans must understand well that peace with Iran is the mother of all peace, and war with Iran is the mother of all wars" he said, adding that Iranians will only be united by further threats from the US, and that the Islamic Republic "will certainly defeat America."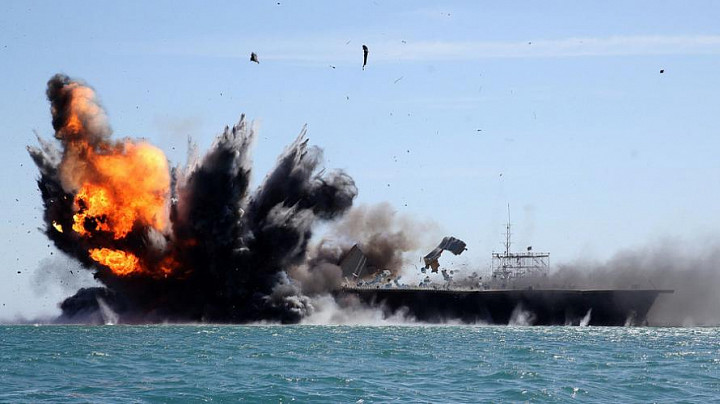 The latest attack against president Trump by Rouhani came one day after Supreme Leader Ayatollah Ali Khamenei backed the idea of blocking all oil exports from the region by closing the Strait of Hormuz in the event of Iran's exports being banned. He also said that "U.S. govt.'s words or even signatures cannot be relied on; thus negotiations with the U.S. are useless. The assumption that negotiations or establishing ties with the U.S. would solve country's problems is an obvious error."
I have previously pointed out that U.S. govt.'s words or even signatures cannot be relied on; thus negotiations with the U.S. are useless. The assumption that negotiations or establishing ties with the U.S. would solve country's problems is an obvious error.

— Khamenei.ir (@khamenei_ir)

https://twitter.com/khamenei_ir/status/1020618444046258176?ref_src=twsrc%5Etfw
While Iran's belligerence toward the US (and vice versa) is nothing new, there was a surprising twist when Rouhani said that Iran would seek improved relations with its Arab neighbors in the Persian Gulf, including Saudi Arabia, the United Arab Emirates and Bahrain, according to Bloomberg. But he also said Saudi Arabia still needs to "change its actions, let go of obstinacy and be willing to have relations."
Iran's anger is the result of Trump's recent decision to withdraw from Obama's landmark nuclear deal, and Trump's subsequent pressure on US allies to completely cut imports of Iranian crude in response to Tehran's alleged malign activities. Those who fail to comply with America's request would be targeted by secondary US sanctions. Following Trump's withdrawal, Iran has been working with the EU to salvage the 2015 the accord.
And even though the other signatories to the deal officially known as the Joint Comprehensive Plan of Action (JCPOA), have condemned Trump's decision, and have assured that they remain strongly committed to the agreement, there has been little progress in carving out a deal that excludes the US, especially with the threat of financial sanctions looming.
Apart from attempts to exert international pressure and re-impose sanctions on Iran, that were in force till the JCPOA, the US launched an online campaign to distort Iranian leadership, according to a recent Reuters report.
Rouhani also suggested that Iran has alternatives to shipping crude through Hormuz.
"No one who really understands politics would say they will block Iran's oil exports, and we have many straits, the Strait of Hormuz is just one of those," Rouhani said. He didn't elaborate on the other "straits" Iran might have available for its exports.

"Mr Trump! We are the honest men who have throughout history guaranteed the safety of this region's waterways," Rouhani said. "Do not play with the lion's tail, it will bring regret."
In response to US escalations, Iran threatened to halt oil shipments through the strait if the U.S. stopped it from exporting, Esmail Kowsari, deputy commander of the Sarollah Revolutionary Guards base in Tehran. Such a move would likely provoke a conflict between Iran and the US, as the strait is the most important export waterway for most Arab oil.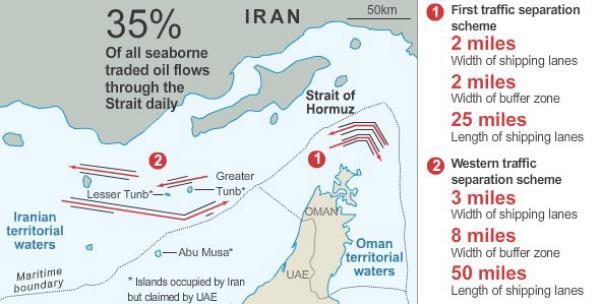 Ironically, Iran has a point: the recent surge in the price of oil and gasoline, which has led to Trump's repeated demands for OPEC and Saudi Arabia to pump more oil, and represents a threat to republicans ahead of the next midterm elections as Bloomberg calculated recently...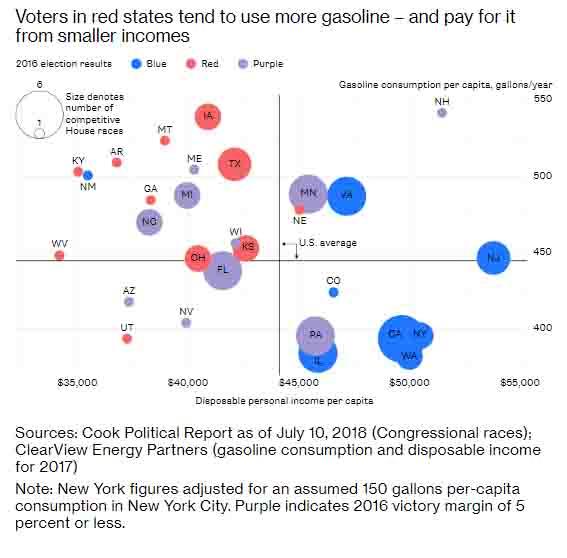 ... would be gone instantly, if Trump were to ease off the pressure on Iran or at least suggest a more staggered implementation of the sanctions. For now, however, the US is stuck with gasoline prices at 4 years highs.