Industrial Production Beats, Rises At Fastest Rate In 4 Years On Air-Conditioning Demand
The last time Industrial production growth was higher than this was May 2010 as IP rose 1.0% against expectations of a 0.4% rise. Last month's print was revised lower, so we swung from worst in 2014 to best in 4 years. Manufacturing rose at a modest 0.5% but it was Utilities that stole the show, surging 3.9% (due to unseasonably high demand for air conditioning). This is the biggest MoM surge in Utilities for a September in at least 10 years. Not exactly sustainable, unless we once again are at the mercy of the weather for US economic growth.
IP only been better in this recovery in May 2010...
... driven entirely by the biggest surge in Utilities since May 2012!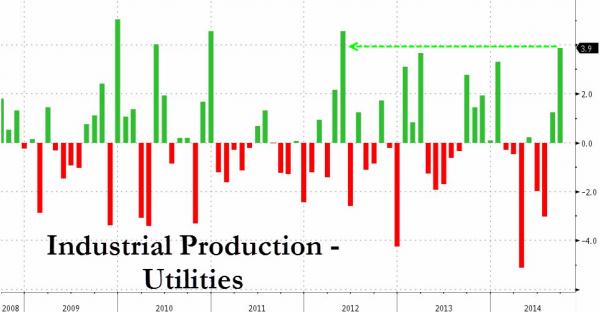 Here is what the Fed said: 
"The output of utilities jumped 3.9 percent, an increase that likely reflected unseasonably high demand for air conditioning as temperatures swung from below normal in August to above normal in September."
Which, as the chart below shows, confirms the highest September jump in over 10 years.
So first, the "polar vortex" and now this: it looks as though indeed Global Warming is what the US economy desperately needs.