Mueller Says Manafort Told "Multiple Lies" About Contacts With Trump Officials, Russian Intel Operative
One week after a "stunning turnaround" in the special counsel's probe of Russian collusion, in which Mueller accused Trump's former campaign chairman Manafort of lying and violating his plea agreement, late on Friday a filing by special counsel Robert Mueller's office detailed that Manafort lied to prosecutors about his contacts with an associate who has Russian intelligence ties and his contacts with the White House while he was under investigation
According to the heavily redacted report filed in the criminal case against Manafort in Washington, D.C., Manafort lied during debriefings in recent weeks about communications and a meeting with his longtime translator and fixer, Konstantin Kilimnik, who is alleged to have ties to Russian intelligence.
Mueller's prosecutors filed a portion of the document under seal and redacted other key points from view.
Manafort also allegedly lied to investigators when he told prosecutors that he never tried to communicate a message to anyone in the Trump administration. In fact, prosecutors wrote, Manafort authorized someone to speak to an administration official on his behalf on May 26.
"Manafort told multiple discernible lies - these were not instances of mere memory lapses," Mueller's prosecutors wrote.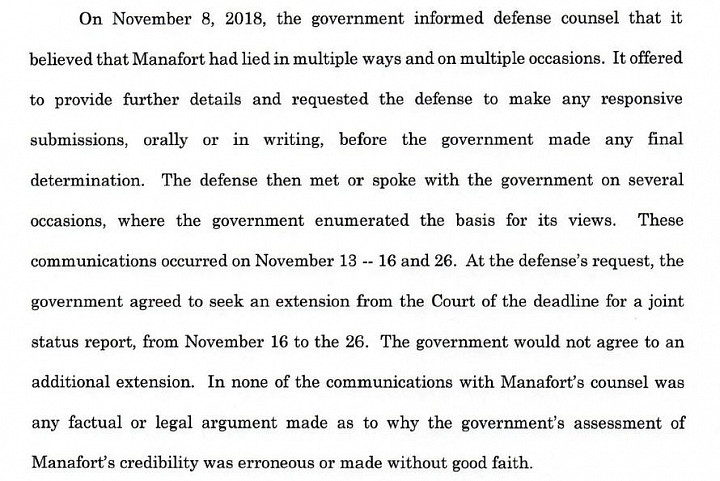 The report detailing those lies on Friday had been highly anticipated for its potential to shed light on Mueller's investigation into Russian interference in the 2016 presidential election and possible collusion with the Trump campaign, a investigation has been kept tightly under wraps.
According to the filing, Manfort's principal lies relate to:
Manafort's interactions with Konstantin Klimnik
a $125,000 wire-transfer to a firm that was working for Manafort
information pertinent to another DOJ investigation
Manafort's contact with administration officials.
On the last point, Mueller alleges that despite claiming the contrary, Manafort had contacts with Administration officials, including a text from May 26, 2018 which authorized a person to speak with an Administration official on Manafort's behalf. Separately, quoting another Manafort colleague, Manafort said in February 2018 that he had been in communication with a senior Admin official up through February 2018. Additional contacts with admin officials were also recovered from a search of Manafort's electronic documents.
In summary, Mueller's office concludes that Manafort "told multiple discernible lies - these were not instances of mere memory lapses" and adds that "further to the extent that the defendant contests specific false statements that implicate ongoing investigations, the government is available to provide relevant evidence to the Court."
The full filing is below (pdf link).