Lira Spikes After US Resumes Turkish Visa Processing
Having plunged several weeks ago following the latest diplomatic spat between Turkey and the US, in which the two countries' consulates announced they had halted bilateral visa processing services, the Turkish Lira spiked moments ago on a Reuters report whiuch suggests diplomacy may be slowly returning to US-Turkish relations:
U.S. SAID PLANNING LIMITED REINSTATEMENT OF TURKEY VISAS
U.S. MISSION IN TURKEY SAYS RESUMES PROCESSING VISAS ON "LIMITED BASIS" -MISSION EMAIL SEEN BY REUTERS".
As Bloomberg adds, "the U.S. mission in Turkey will issue statement later on Monday about updates to its visa ban, according to two U.S. officials who asked not to be named because the policy hasn't yet been made public. Officials confirm earlier report by Reuters that U.S. is partially lifting its ban on issuing visas in Turkey, without elaborating."
"Given that the diplomatic spat between Turkey and the U.S. contributed to the lira's selloff, any signals that would indicate that relationship may gradually normalise will provide the lira with respite," Piotr Matys, a currency strategist at Rabobank in London, told Bloomberg, and sure enough, the TRY jumped sharply in kneejerk response to the headline.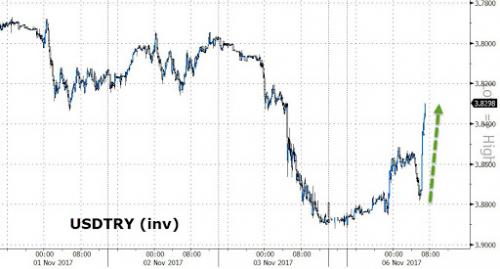 Still, as some FX desks point out, "TRY will need something a lot more substantial than this headline to recover fully. Relations remain extremely strained and there is still scope for this situation to worsen again."