9 Signals That The Market Has Finally Bottomed... And 5 That The Bottom Is A Lot Lower
Late in January, just as the market was enjoying an unprecedented melt-up ahead of the February VIXplosion which sent the S&P on its first of two corrections in 2018, Bank of America published a warning report, titled "Our Sell Signal Was Triggered On Jan 30, S&P 2686 Is Next" in which chief investment strategist Michael Hartnett explained why he was convinced that a drop as much as 12% was imminent in the coming weeks. He was spot on, with the S&P tumbling within days, hitting hit target and then some.
Fast forward to November, when Hartnett published his preview of the year ahead, titled "The Big Low", in which the strategist not only does a full post-mortem of 2018, but more importantly lays out his preferred trades for 2019, which he views as a year of two halves: a poor first half, during which stocks will "find their low once rate expectations peak and EPS expectations trough", a move he calls "The Big Low" which will then be followed by a V-shaped recovery for credit and equity prices into the second half of 2019, or as he puts it:
We are bearish stocks, bearish bonds, bullish commodities, bullish cash and bearish the US dollar; we expect to turn tactically risk-on in late-spring but start 2019 with bearish asset allocation of 50% equities, 25% bonds and 25% cash; coming years nonetheless less asset-friendly than past decade.
While we urge readers to refresh Hartnett's year ahead preview in full, in short BofA believes that the era of excess returns in bonds and stocks has ended, and after one last hurrah in late 2019 it's all downhill from there.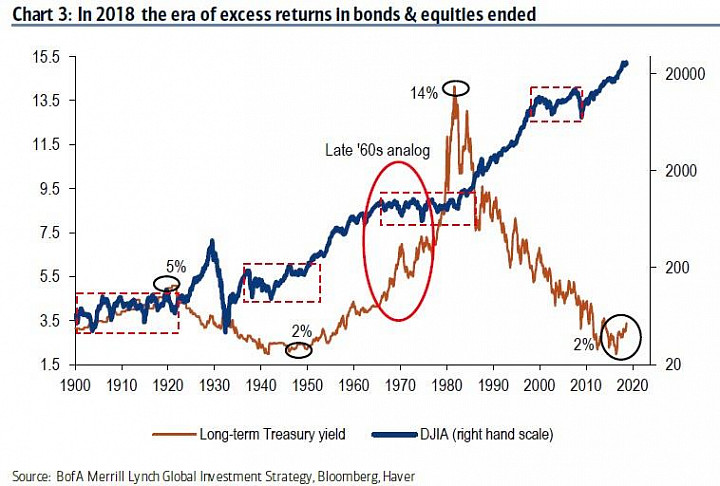 Needless to say, Hartnett's dour outlook (which competes with Morgan Stanley and Socgen for the most bearish near-term view from any Wall Street strategist) is about as far from Marko Kolanovic's super optimistic projection which the JPM strategist laid out yesterday, and according to which the S&P will close next year at 3,100.
And while Marko refuses to let go of the hope that BTFD is still a viable investment strategy, and that markets will keep rising even though central banks are actively draining liquidity every month, Hartnett is kind enough to give BofA clients 9 signals to watch to determine if the "Big Low" is here... as well as 5 critical signals that the Big Low is a lot lower, or as Kolanovic would call them "fake news."
So, without further ado, here is Hartnett on how you'll know it's the Big Low when...
BofAML Bull & Bear Indicator drops below 2
Recession odds (currently 15%) jump >35% via "recessionary" data, e.g. global PMI <50, -ve Chinese export growth, US unemployment claims +50K
Global EPS 2019 forecast drops from +8% toward zero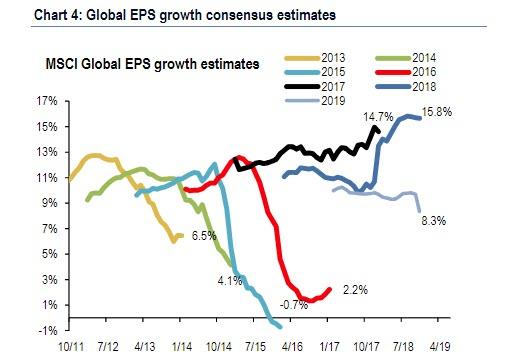 BofAML Global Wave rises
Bullish investors forced to sell last bulk trades...long US tech, long US dollar, long private equity
Bearish investors forced to buy rally in "policy panic" trades, i.e. a. China-plays (EM bonds, EM FX, Asian & European cyclicals & banks), b. rate-sensitive plays (REITs, homebuilders), c. global infrastructure plays
Collapsing oil prices leads to higher China, Japan, EU PMIs
Flows show Cash rotates to Credit: Turkey now yielding 17.7%, US HY CCC 12.3%, Mexico 9.1%, global HY 7.0%, EM local FX bonds 5.6%, US IG BBB 4.8%...start to nibble in Q1'19
Flows show Cash rotating to Dividend Yield: Australia now yielding 5.4%, UK stocks 5.1%, Eurozone 4.3%, global energy 4.3%...start to nibble in Q1'19.
And just so Kolanovic gets double McCarthy bonus points for accusin Hartnett of being a Russian agent and spreading less than bullish "fake news", and screwing up with his bullish forecast, here is the BofA strategist with 5 more, even scarier signals according to which the market is going a lot lower, i.e.: you will know the Big Low is a lot lower if...
US payroll shows surprise "late-cycle" surge in wage growth (AHE to 3.5%)
Lurch to populism (e.g. Corbyn in UK) causes bond "vigilantes" to raise cost of capital
Credit contagion causes policy impotence, e.g. Fed cuts coincide with wider credit spreads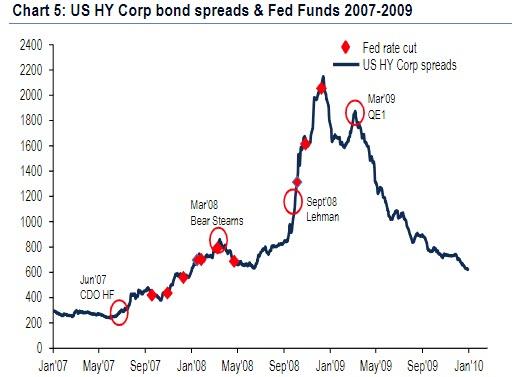 Credit event causes capital flight from US, i.e. strong US dollar devaluation
Trading rules flip to "buy" and markets don't rally...signals the potential for a financial system "event" such as LTCM, WorldCom, Lehman.