Russian Cruise Missile Destroyers Conduct Anti-Submarine Drills Near Syrian Coast
Since September when what was gearing up to be a major Syrian-Russian assault on Idlib was called off through a Russian-Turkish ceasefire agreement, possibly in avoidance of the stated threat that American forces would intervene in defense of the al-Qaeda insurgent held province, the war has largely taken a back-burner in the media and public consciousness. 
But as sporadic fighting between jihadists and Syrian government forces is reignited this week along the outskirts of the contested territory, the war could once again be thrust back into the media spotlight as ground zero for a great power confrontation between Moscow and Washington. 
Russia this week condemned "sporadic clashes", as well as "provocations" by the jihadist group HTS (the main al-Qaeda presence) in northwestern Syria. At the same time Damascus has grown increasingly frustrated with implementation of the Idlib deal while criticizing Turkey for its failures. At a moment when we could be headed toward another major international showdown over Idlib, Russia is once again flexing its muscles by conducting military exercises off Syria's coast in the Mediterranean.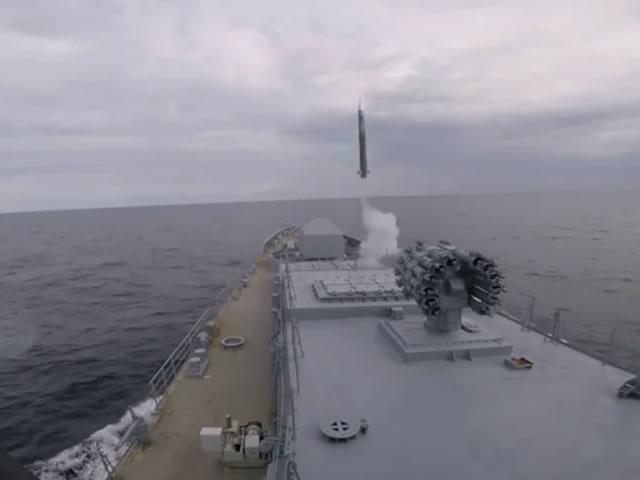 "Drills were held to practice searching for and tracking a submarine, searching for, rescuing and providing medical assistance to persons in distress at sea," a Russian naval press office statement reads.
Russian military and naval officials announced Friday that its warships held extensive anti-submarine warfare drills in the Mediterranean. Specifically the Russian Black Sea Fleet's frigates Admiral Makarov and Admiral Essen conducted the exercise in tandem with deck-based helicopters near Syrian coastal waters.
According to TASS the Russian Navy deployed sub-killers armed with cruise missiles as part of the drill:
The frigates are armed with eight launchers of Kalibr-NK cruise missiles that are capable of striking surface, coastal and underwater targets at a distance of up to 2,600 km.

The warships of this Project are also armed with Shtil-1, Palash and AK-630M air defense missile and artillery systems, A-190 100mm universal artillery guns, torpedo tubes and RBU-6000 rocket launchers. The frigates also have a take-off and landing strip and a hangar for an anti-submarine warfare helicopter (Ka-27 or Ka-31).
The Russian Navy has over the past years of war in Syria maintained its permanent Mediterranean task force in high numbers of ships and deployable assets. The Kremlin announced earlier this month it would bolster its Mediterranean fleet by sending more long-range cruise missile capable ships. 
Russia's military began building up its forces last summer ahead of a planned massive assault on Idlib, and again after Israel attacked Syrian government facilities in mid-September, resulting in the downing of a Russian spy plane with 15 crew members on board. Russia's response was to quickly transfer S-300 anti-aircraft missile systems to the Syrian government.