Anthony Scaramucci May Soon Return To The West Wing
One of the Trump administration's most colorful supporting characters says he might have a second chance at a West Wing job now that the new year has arrived.
The Daily Beast reported Tuesday that former White House Communications Director Anthony Scaramucci has privately told friends and associates that he might make his triumphant return to the West Wing early this year.
The former White House communications director has privately told friends and associates that the president and other members of the Trump family, including White House adviser and first daughter Ivanka Trump, miss him and want him back in the West Wing. Three sources close to Scaramucci have independently told The Daily Beast that the Mooch continues to brag that he and President Donald Trump talk on the phone, and that the Mooch believes his resurrection in Trump-world could be imminent. One of these sources said that the Mooch claimed he was flying out to either Washington, D.C. or Mar-a-Lago early this month to meet Trump to talk about it.
After initially serving as an adviser on the Trump transition team, Scaramucci was memorably fired by Chief of Staff John Kelly just 10 days after accepting the communications director job. Scaramucci, who was reportedly responsible for the firing of his palace rival, former Chief of Staff Reince Preibus, was allegedly sacked after delivering an expletive laden interview to New Yorker reporter Ryan Lizza (who has since been fired from the magazine over allegations of sexual harassment). Scaramucci claimed he didn't realize Lizza intended to publish the rant, but sources inside the White House said the president was pleased with Scaramucci's brash approach, while Kelly immediately saw Scaramucci – who reported directly to the president, circumventing the typical White House power structure – as a threat.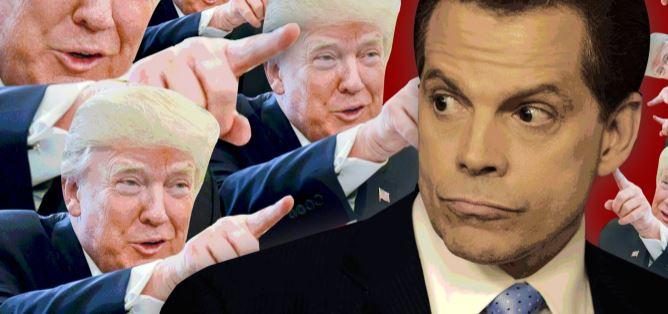 According to the Beast, there's still one major obstacle to Scaramucci rejoining the administration: Trump himself doesn't appear to be on board. It's unclear whether Scaramucci has been in constant contact with Trump himself – or his daughter, Ivanka.
The story also comes with an important caveat: Virtually no one inside or outside the White believed the Mooch's claims. This included several of the Mooch's friends and also several Trump aides.
"It would amaze and shock me if the president still talks to [Scaramucci] or is considering re-hiring him after what happened," one senior White House official said. "And that is coming from someone who works in a place where nothing surprises me anymore."
Scaramucci unsurprisingly denied the story, and the White House communications department declined to comment.
"[T]his is absolute nonsense," Scaramucci said in text messages to The Daily Beast. "Happy new year [and] be well. I have said nothing like that at all…Don't believe BS."
Laura Goldman, a friend of Scaramucci's, told The Daily Beast that she's been in touch with him and that while he does "still speak to both President Trump and Ivanka" he doesn't have plans to return to the administration.
"His future plans are exciting and offer an extremely lucrative payday," Goldman added. "They will launch Anthony in a different career. Stay tuned for a January announcement."
Trump does have a habit of staying in contact with—and even relying on—advisers whom he has fired. Long after Corey Lewandowski kicked off the 2016 team, the former campaign manager still visits the White House and regularly dishes out advice to the president. Trump's former chief strategist Steve Bannon was deposed in August—and yet he still often advises his former boss on the phone and remains a top outside advocate.
Reports about Trump's reaction to Scaramucci's now infamous New Yorker rant are varied. While some said Trump found it amusing, the Daily Beast reported that the president polled aides in the White House, inquiring about the Mooch's mental state during the interview.
"Is he on drugs?" Trump earnestly asked those around him, according to two White House officials and another Trump confidant.
Days later, Scaramucci was out, one of nearly two dozen high profile personnel to depart the Trump administration during its first year.